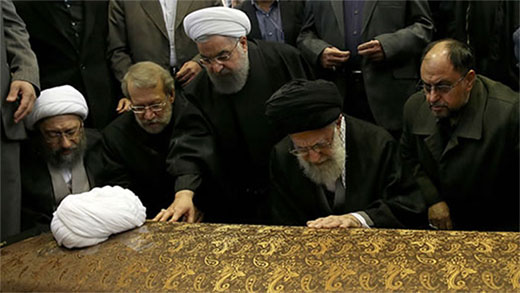 January 11, 2017—The public funeral of former President Akbar Hashemi Rafsanjani on January 10, 2017, has led to an outpouring in Tehran of public calls for the release of opposition leaders held under house arrest and political prisoners, in a resurgence of support for reformist issues that have been harshly suppressed in Iran for the last decade.
The events since Rafsanjani's death on January 8 have revealed not only the sharp fractures within Iranian society between hardliners and reformists, but also the unhealed wounds dating back to the violent repression of the citizenry after protests against the disputed 2009 presidential election result rocked the country.
Large crowds—some of which were dispersed by security forces—chanted slogans calling for the release of opposition leaders Mir Hossein Mousavi, Mehdi Karroubi, and Zahra Rahnavard, who have been under house arrest since 2011.
The polarization of Iranian society was reflected in the reaction to Rafsanjani's death among Iran's political elite. Conservative Member of Parliament Ali Motahari tweeted that peoples' chants demanding the release of the opposition leaders show that the government must soon resolve the issue. Hardliners, however, publicly rejoiced over his death: "With Hashemi Rafsanjani's death, the last barrier protecting reformists has been eliminated … and has resulted in the complete harmony of political power," tweeted conservative journalist Bahman Hedayati.
It is ironic that Rafsanjani has emerged—in his later years and now in death—as a galvanizing force for reformists in Iran. He never fully embraced progressive ideas or became an advocate for human rights, but many now fear his death will embolden political hardliners and reinforce totalitarian tendencies in the Islamic Republic.
"You can easily see fear in some of the people's reactions," wrote prominent reformist journalist Jila Baniyaghoob on Twitter on January 8 after the 82-year-old former president was pronounced dead from a massive heart attack.
Beyond the current reactions to Rafsanjani's death is the question of the political effect of the departure of one of the main architects of the 1979 revolution, who came to serve as a buffer against conflicts between hardline and moderate forces in recent years.
Evolution of an Architect of the Revolution
During the revolution's first two decades—when he was at the height of his power and influence as president (1989-97)—Rafsanjani allowed political crackdowns to occur under his watch, including the assassinations of political dissidents inside and outside Iran.
Throughout the 1990s, during Rafsanjani's presidential terms, the Intelligence Ministry launched a campaign of intimidation and persecution against political dissidents. In 1996, intelligence agents almost succeeded in killing a group of Iranian writers and intellectuals after forcing a bus the group was travelling in to swerve into a valley. The abduction of journalist Faraj Sarkohi that year by the Intelligence Ministry and suspicious deaths of dissident literary figures including Ali Akbar Saeedi Sirjani, Ahmad Miralaie, and Ahmad Tafazoli in the 90s—which many held the ministry accountable for—also took place under Rafsanjani's watch.
However, shortly after his presidency ended, Rafsanjani surprised Iranians in 1997 when a speech he gave—ostensibly to dispel fears of vote-tampering—ultimately led to the election of reformist presidential candidate Mohammad Khatami over conservative candidate Ali Akbar Nategh-Nouri, who, as the establishment's favored candidate, had seemed a shoo-in.
His public criticism of the government's violent repression of pro-democracy figures following the disputed 2009 presidential election hastened his fall from the favor of his former hardline allies, including the Islamic Republic's supreme leader, Ali Khamenei, and reflected his move toward the center.
"If they don't end [the protests], they will be responsible for the consequences and chaos," warned Khamenei on June 29, 2009, after millions of Iranians took to the streets chanting "where is my vote?" in response to the result of the presidential election a week earlier, which brought conservative hardliner Mahmoud Ahmadinejad a second presidential term. Khamenei's comment was seen as a green light for security forces to violently suppress the protests in a campaign that continued for months.
Rafsanjani and Khamenei once stood together as key leaders of the revolution, but less than a month after Khamenei's comment, Rafsanjani publicly sided with the protesters. "A large section of the people have doubts about the result of the election," he said on July 17, 2009. "We must alleviate those doubts."
Soon after, Rafsanjani was forced to step down from his chairmanship of the Assembly of Experts, a powerful body that selects the country's supreme leader, although he remained a member.
More recently, Rafsanjani remained silent when an audio file was posted in August 2016 by the son of the once-successor to Iran's first supreme leader, Hosseinali Montazeri, in which Montazeri described the mass executions of dissidents in the summer of 1988 as "the greatest crime in the Islamic Republic of Iran" while holding Khomeini and some of his closest allies responsible.
Declining Influence
As of 2010, the once powerful Rafsanjani seemed resigned to his declining influence. "If I relay your request to the authorities, I'm not sure I'll get a positive response," he told the family of political prisoners' who had asked him to put in a good word for their loved ones with Khamenei. "It might have the opposite effect."
But rather than receding into the shadows, Rafsanjani began advocating for the release of Mousavi, Rahnavard and Karroubi.
"If anything happens to those in house arrest, it would leave a permanent stain on the state," he said during a 2013 meeting with Khamenei, according to the Karroubi-affiliated Saham News website.
Most recently, Rafsanjani spoke out against the disqualification of Hassan Khomeini— the moderate grandson of revolutionary leader Ruhollah Khomeini—from running in the February 2016 election for the Assembly of Experts.
"You have disqualified a distinguished man, a man who carried the spirit of the late Imam Khomeini. Who are you? Who gave you the right to take over and pass judgment on Parliament, the government and others?" he said, addressing the hardline Council of Guardians, which vets political candidates. "Who gave you permission to have all the guns and media? Who gave you permission to control Friday prayers and IRIB (state TV)? Who gave you these rights?"
Yet even as a sidelined former president with most of his titles stripped, Rafsanjani remained as one among a handful of senior Iranian officials who could publicly question and criticize state policies and actions without being imprisoned—even though two of his children were imprisoned, one for her political dissent.
Rafsanjani's death removes a potential moderating voice from the Assembly of Experts, which will select Iran's next supreme leader. It has also left a political vacuum in Iran, with unclear implications for moderate and reformist forces who relied on his moderating powers, especially President Rouhani, who Rafsanjani helped to elect.
For the latest human rights developments in Iran visit the Campaign's website
For interviews, contact:
Hadi Ghaemi at +1-917-669-5996, hadighaemi@iranhumanrights.org
Follow the Campaign on Facebook and