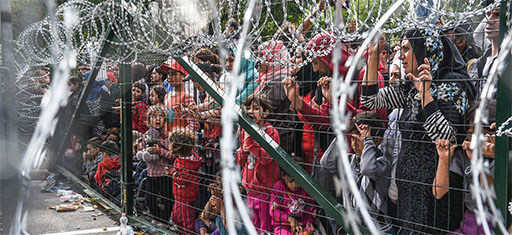 19.09.2016 (New York, Paris) FIDH welcomes the unprecedented initiative by the United Nations General Assembly to hold a world summit on Refugees and Migrants on 19 September to discuss a "more humane and coordinated approach" to migration. It urges Heads of State and government to use this opportunity to take concrete actions to protect the rights of refugees and migrant persons.
Wars, daily persecutions, poverty, environmental factors push more and more people to flee their countries. Global forced migration is on the rise. In 2015, according to the United Nations High Commissioner for Refugees (UNHCR), 65.3 million people were displaced because of conflict, persecution and human rights violations [1]. It is 5.8 million more than in 2014. As of September 2016, it is estimated that 4.8 million people had fled the conflict in Syria.
In 2015, only about one million people sought protection in Europe. But so far, the European response to increased flows of migrants, asylum seekers and refugees has been completely inadequate at best, shameful most of the time. It included the construction of walls and fences, push-backs, denial of the right to asylum, systematic administrative detention, confiscation of valuables, xenophobia, stigmatisation and, in some cases, criminalisation. The EU and member States' approach remains security centred and aimed at sealing off and militarize borders, with the help of the newly created European Border and Coast Guard which is set to replace the European Union Agency for the Management of Operational Cooperation at the External Borders of the European Union, Frontex [2].
EU member states have also overall failed to meet their already unambitious commitments regarding resettlement and relocation [3]. The Dublin III regulation leading to an unequal distribution of asylum-seekers within the EU still puts a disproportionate burden on frontline member States. In parallel, the EU and its member States continue to outsource their responsibilities for managing migration to non-EU countries with poor human rights records [4]. Turkey – which already hosts 2.7 million Syrians, living in appalling conditions – has seen its responsibilities increase following the adoption of a shameful deal with the EU in March 2016 providing for fast-track expulsions of all "new irregular migrants" reaching the Greek islands back to Turkey and an infamous "Syrians swap". In other parts of the world, similar shameful agreements are concluded to push migrants away. Australia is pursuing its policy of preventing boatloads of migrants from reaching Australian soil by transferring the passengers to Manus Island in Papua New Guinea or to Nauru. Here, they are detained in overcrowded, squalid centres, while awaiting a decision on their refugee status and possible resettlement in another country.
In the absence of safe and legal channels of migration into Europe, more and more refugees, asylum seekers and migrants are forced to risk their lives by taking increasingly dangerous routes. According to the International Organisation for Migration, since the beginning of 2016, almost 300.000 people risked their lives at sea in their attempt to reach Europe and more than 3.200 drowned or went missing out of the 4.320 migrant deaths registered worldwide in 2016 [5]. 64% of arrivals came from the world's top 10 "refugee-producing countries" and almost half were women and children [6].
FIDH urges world leaders to take concrete actions aiming at developing more ambitious migration and asylum policies, putting the human rights of migrants, asylum-seekers and refugees, particularly the right to asylum and non-refoulement at their heart. Preventing further loss of lives at sea, while opening safe and legal migration channels including for labour migration, including by granting visas, increasing resettlement capacity, facilitating family reunification and repealing airport transit visas, should also be prioritised. World leaders should also commit to a fair share of responsibilities for the reception of refugees and asylum-seekers, ensure that cooperation in the field of migration with countries of origin and transit respects human rights and do not contribute to human rights violations, address the root causes of the violence that force people to flee their country of origin and fighting populist rhetoric and "anti-migrant" discourses and measures, which violate the dignity and the rights of migrants, asylum seekers and refugees. Only through these measures will world leaders succeed in creating "a more responsible, predictable system for responding to large movements of refugees and migrants".