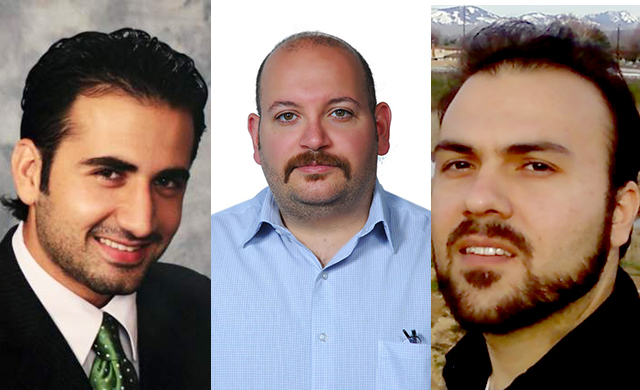 Release of Iranian Americans Welcomed, Time to Release All Political Prisoners
Steps Towards Reconciliation with the West Are Good but Iran Needs National Reconciliation As Well
January 16, 2016—The International Campaign for Human Rights in Iran welcomes the long-overdue release today of four Iranian Americans, including Jason Rezaian, the Washington Post reporter who was arrested in Tehran and imprisoned for the past 18 months in a bogus and politicized prosecution.
"If this release signals Iran's desire for international reconciliation, so too it must move forward with national reconciliation," said Hadi Ghaemi, executive director of the International Campaign for Human Rights in Iran, "and that means the release of the many political prisoners behind bars in Iran."
In announcing the release, the Tehran Prosecutor stated that the swap was "in the national interest."
"National reconciliation is just as much in the 'national interest'," said Ghaemi. "Many in Iran have long called for national reconciliation through the release of political prisoners, Green Movement leaders, and those behind bars since the peaceful protests that followed the disputed 2009 election in Iran."
The Campaign calls for the release of such prisoners, including physicist Omid Kokabee, women's rights activist Bahareh Hedayat, journalist Issa Saharkhiz, rights activist Narges Mohammadi, human rights lawyers Abdolfattah Soltani and Mohammad Seifzadeh, Green Movement leaders Mir Hossein Mousavi, Mehdi Karroubi, and Zahra Rahnavard, and the many others whose ordeal is not yet over.
"Iranian political prisoners who are imprisoned on similarly baseless charges and do not hold a foreign passport do not get the same attention," said Ghaemi. "This is a continuing travesty of justice," he added.
Iranian media also reported that seven Iranians who were held in the United States for violating sanctions have been released by the US: Nader Modanlou, Bahram Mechanic, Khosrow Afqahi, Arash Ghahreman, Touraj Faridi, Nima Golestaneh, and Ali Sabounchi.
Official Iranian news agencies have confirmed the names of the three other Iranian-American dual citizens who were released along with Rezaian: Saeed Abedini, Amir Mirzaei Hekmati, and Nosratollah Khosravi.
Iran also released the American student Matthew Trevithick, whose name had originally been withheld because his family had not wanted to publicize his arrest.
Other dual and foreign nationals, however, remain in prison in Iran. They include: Siamak Namazi, an Iranian-American arrested in September 2015, Kamal Foroughi, the 76-year-old Iranian-British national held since 2013, and the Lebanese national Nazar Zaka who lived in the US and was arrested while attending a conference in Tehran in September 2015.
Follow the Campaign on Facebook and Twitter
For the latest human rights developments in Iran visit the Campaign's website
For interviews, contact:
Hadi Ghaemi at +1-917-669-5996, hadighaemi@iranhumanrights.org