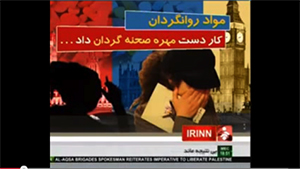 Broadcasts on Hijab Campaign Spread Defamatory Messages and Blatant Falsehoods
June 2, 2014—The International Campaign for Human Rights in Iran calls on President Rouhani to immediately institute supervision of Iran's state TV and end the broadcast of programs that falsely defame dissidents and implicitly justify violence against women who do not wear the hijab, the compulsory dress that covers a woman's head and body.
Iran's state-run broadcast agency, the Islamic Republic of Iran Broadcasting (IRIB), broadcast a program on its IRINN news network channel during prime time on May 31, 2014, which lashed out at the exiled female journalist Masih Alinejad who launched the "My Stealthy Freedom" Facebook campaign  in early May 2014, encouraging Iranian women to shed the hijab. The campaign has amassed nearly half a million Facebook followers.
The IRIB program stated that Alinejad was "trying to deceive Iranian girls and women" and falsely claimed that she had been found "naked under the influence of heavy drugs on a street in London" and was then "raped by three men in front of her child," implicitly drawing a connection between the lack of hijab and sexual assault.
"Blatantly encouraging attacks on women, for any reason, is criminal behavior," said Hadi Ghaemi, Executive Director of the Campaign. "This only confirms the flagrant lawlessness of hardliners who desperately fear any challenge to their repressive grip on society."
"This is another example of IRIB's routine practice of using its broadcast monopoly in Iran to defame, discredit, and intimidate critical voices," continued Ghaemi.
Hardline websites such as Tasnim, which is connected to the Islamic Revolutionary Guards Corps (IRGC), have spouted a barrage of articles claiming that women who do not wear hijab encourage and invite sexual assaults.
IRIB's broadcast of these claims on its prime time program is consistent with its longstanding practice of acting as an arm of the security and intelligence services to repress and defame dissidents and to broadcast disinformation that impugns the character and reputation of those it perceives as challengers.
The My Stealthy Freedom campaign has clearly touched a raw nerve: its use of social media to express dissent taps into the authorities' fear of the Internet and its potential for uncensored communication, and its rejection of the required female dress code challenges hardliners' continued control over the social and cultural environment in Iran.
President Hassan Rouhani, elected by a large majority last year, has spoken out in favor of the citizenry's right to the Internet, as well as women's rights and greater social and cultural freedoms. Yet hardliners still control the Intelligence, security, and Judicial services, as well as IRIB, and have fought back ferociously to retain their power over the domestic environment in Iran. The My Stealthy Freedom campaign is yet another example of the increasingly strident culture war between moderates and hardliners in Iran.
The Campaign urges the international community to hold IRIB accountable for its continued rights violations, and to forcefully speak out against its routine practice of defamation and the blatant incitement to violence against women implicit in its broadcasts.
Listen to the Campaign's Iran Rights Podcast
For the latest human rights developments in Iran visit the Campaign's website
For interviews, contact Hadi Ghaemi at +1-917-669-5996
Follow the Campaign on Facebook and Twitter