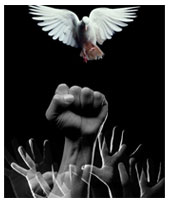 15th February, 2014 -IranSOS- Hassan Sadeghi and Fetemeh Mosanna a prisoner couple in Evin were released on Bail. According to the report of (HRANA), Hassan Sadeghi the political prisoner on ward 350 was released on bail on February 10th. Last week his wife was released from Evin prison on bail, too.
Last year, Hassan Sadeghi Dashti was trying to have a home funeral for his father Gholam Hossein Sadeghi Dashti, but he was arrested with his wife at 5 A.M on 29 January, 2013 by intelligence forces.
Mr. Dashti was born in 1965. He had been arrested in 1982 when he was 17 years old on charge of supporting MEK. He spent 7 years in prison and Mrs. Ftemeh Mosanna was born in 1969, in 1982, while she was just 13years old has been arrested along with her mother and sisters and spent 3 years in prison.
It should be noted, Gholam Hossein Sadeghi Dashti was an Iranian political activists living in Iraq and on 24 January, 2013 has died of cancer.