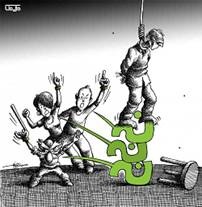 "Carrying out a second execution on a man who somehow managed to survive 12 minutes of hanging … betrays a basic lack of humanity that sadly underpins much of Iran's justice system."
 Philip Luther, Amnesty International
Very little is known about this 37-year-old man, Alireza M., who was hanged last week in the town of Bojnord in Khorasan Province and miraculously survived, except that he has two daughters and was sentenced to death three years ago for carrying (not selling) 1 kg of Cristal. What we know, through the Islamic Republic's media, is that Alireza was left hanging from his neck for 12 minutes, was certified dead by the medical examiner, and was breathing the next day when his family came to retrieve his body. We also know that the law in Iran prescribes the death sentence for anyone in possession of 30 grams of crystal or more and that the jurists and religious authority quoted in the press believe that the death sentence stands. Alireza will be taken back to the gallows, not now, but once he has recovered from the first hanging.
We don't need additional information to figure out the cruelty of hanging someone by his neck for 12 long minutes, to imagine the ordeal lived by a person waiting to be killed and his family, and to understand the lack of humanity involved in imposing all this on a family a second time. We don't need the Islamic Republic's judicial authorities or the media's confirmation of the following facts:
1-      The proceedings of the Islamic revolutionary courts − beginning with the fact that interrogations take place without the presence of an attorney and that torture is too often used to extract confessions from detainees − violate the minimum standards of due process of law.
2-      Executing a person who is allegedly found in possession of drugs violates Iran's obligations under international law.
3-      Imposing excruciating mental and physical pain on anyone is inhuman and that the death penalty is a cruel, inhuman, and degrading punishment.
The Abdorrahman Boroumand Foundation, which has collected reports of 221 drug-related executions in Iran in 2013, joins its voice with those of Amnesty International, Ensemble Contre la Peine de Mort, and Iran Human Rights to call on Iran to halt the execution of Alireza M. 
We also appeal to civil society and the public, in and outside Iran, to show their outrage in the face of such inhuman behavior, to share this information, and to call on the Iranian authorities [1] to spare Alireza from a second execution.
_______________________________
[1] You can contact Iranian authorities through the Islamic Republic's Permanent Mission at the United Nations:
Phone: (212) 687-2020
Fax : (212) 867-7086
Email : iran@un.int
Or send your email to Iran's Judiciary: info@adliran.ir, nezarat@eadl.ir