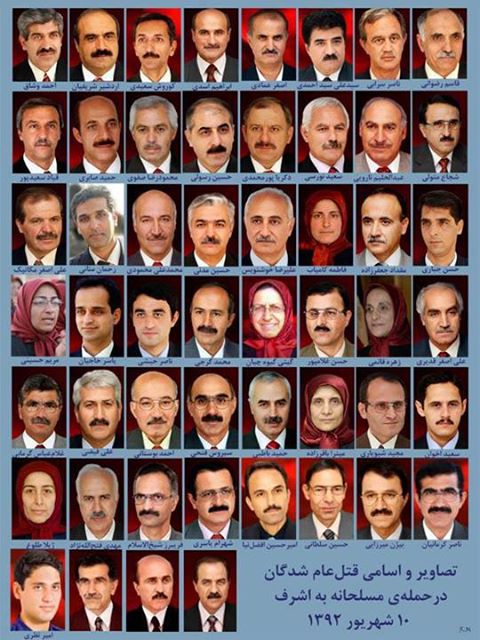 Paris, 3 September 2013. The International Federation for Human Rights (FIDH) and the League for the Defence of Human Rights in Iran (LDDHI) call on the UN Assistance Mission for Iraq (UNAMI) to release as soon as possible its report of investigation into the acts of violence perpetrated in Camp Ashraf on 1st September, which led to the death of possibly up to 52 camp residents. Both organizations also urge the Iraqi authorities to immediately launch an independent and impartial investigation as the government has pledged to do.
The UNAMI team, which visited Camp Ashraf on 2nd September, is due to establish the number of people who died on Sunday and the cause for their deaths.
"In any case, the primary responsibility for the events that occurred on Sunday lies with the Iraqi authorities. While the circumstances of the attack remain unclear as of today, FIDH firmly hopes that no government orders were issued to attack the camp, and that the government's own investigation into what can only be labelled as 'extra-judicial killings' will lead to the arrest and fair trial of the perpetrators", declared Dr Karim Lahidji, FIDH president.
Following a December 2011 Memorandum of Understanding between the United Nations and the Iraqi government, the UNHCR has been processing requests for international protection from more than 3,000 residents of Camp Ashraf, most of whom have since then been transferred to Camp Hurriya (formerly known as Camp Liberty) in north eastern Baghdad.
"UNAMI and UNHCR have deployed noticeable efforts to resettle these Iranian exiles abroad. While the resettlement of at least 162 – mostly in Albania – is a first good step, the recent incident, which comes in the wake of other attacks against Camp Hurriya's residents in 2013 , makes it even more urgent to speed up the process, in compliance with international refugee law», Karim Lahidji added.
Finally, FIDH is extremely worried by the statement of the Islamic Revolution Guards Corps, which welcomed and endorsed the killing of Camp Ashraf's residents as "a historical revenge of brave children of martyred Iraqi mujaheds". This can only imply involvement in or supporting such extra-judicial killings.
Press contact:
FIDH: press@fidh.org
LDDHI: lddhi@fidh.org; http://www.facebook.com/lddhi.fidh
Camp Ashraf previously hosted some 3400 Iranian exiles, mostly members and supporters of the People's Mojahedin Organisation of Iran (PMOI) who were allowed to move to Iraq by Saddam Hussain's government in the 1980s. In 2009, the Iraqi authorities took over from US authorities the responsibility for the safety and security of all the camp's residents. In 2011, the Iraqi government announced the closure of Camp Ashraf after relocating its residents to a new location, Camp Liberty in north-east of Baghdad. After the majority of residents had been relocated, about 100 people were allowed to stay behind in Camp Ashraf in order to resolve the remaining property issues.