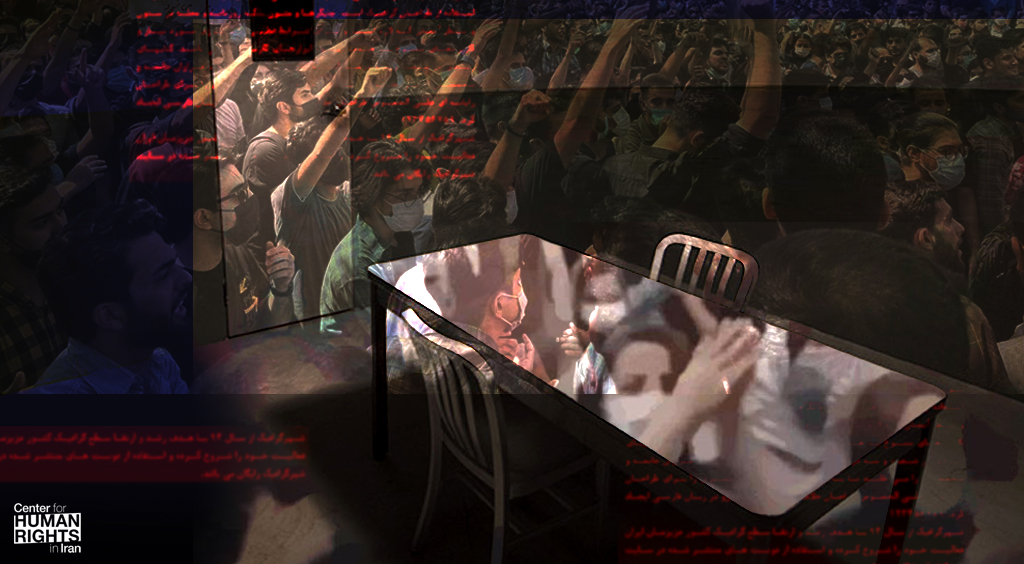 November 17, 2023 – An arbitrarily detained woman, facing unjust imprisonment in Iran, has provided a detailed account of her violent abduction amid mass arrests of peaceful protesters who were beaten and coerced into signing forced confessions, as per testimony obtained by the Center for Human Rights in Iran (CHRI).
"I had been abducted. The others whom I was talking to were also abducted. They hadn't done or said anything," stated Zahra Shafiei-Dehaghani, a filmmaker and human rights activist.
On September 16, 2022, the day of Shafiei-Dehaghani's arrest in Tehran, hundreds of other protesters were arbitrarily detained. This day marked the outbreak of anti-state protests throughout Iran, triggered by the killing of 22-year-old Mahsa Jina Amini while in state custody.
"The officers had beaten them and put them in the van… They forced confessions out of a lot of detainees," said Shafiei-Dehaghani in an audio file sent from prison, in which she described her arrest and the inhumane treatment of protesters by state security forces.
Shafiei-Dehaghani's testimony is among dozens received by CHRI and forwarded to the UN's Independent International Fact-Finding Mission on Iran. This mission was established in November 2022 to investigate atrocities by Iranian officials committed since the outbreak of protests that year, which transformed into the "Woman, Life, Freedom" movement.
Between September 2022, when the protests began, and January 2023, Islamic Republic of Iran's security forces employed lethal force to suppress the protests, killing over 500 protesters, including dozens of children. More than 22,000 individuals were detained during this period.
"This brave woman has risked her safety and freedom to shed light on her brutal and unlawful detainment," said Hadi Ghaemi, Executive Director of CHRI. "Regrettably, she stands among numerous individuals in Iran who have endured similar violence in state custody for their involvement in peaceful protests and dissent."
"These crimes must be thoroughly investigated by the UN's Fact-Finding Mission on Iran and the international community should hold Iranian officials accountable for their atrocities against protesters and political prisoners," added Ghaemi.
CHRI expresses deep concern for Shafiei-Dehaghani and countless detained protesters. Her act of speaking out exposes her to extreme violence and imprisonment by Iranian authorities, who have a history of punishing individuals for publicly discussing politically motivated cases against them.
CHRI urges human rights organizations and concerned citizens to widely share Shafiei-Dehaghani's story and demand justice and freedom for all peaceful protesters in Iran. Her case, likely to be tried in secret and representative of countless others, reflects the arbitrary detention, torture, forced false "confessions" and denial of due process for detained protesters that is systematically employed in Iran to silence peaceful dissent.
CHRI Condemns Arbitrary Detainment, Demands Release of Protesters
Shafiei-Dehaghani, aged 46, has been arbitrarily detained for over a year, enduring detention in Qarchak Prison and subsequently at Evin Prison, both located in Tehran Province. Qarchak is particularly infamous for its inhumane conditions. Shockingly, she has been held for over 12 months without any clarity on the charges against her, a violation of her right to due process.
In early November 2023, Dehaghani was moved from Qarchak Prison to Evin, where she was placed in a high-security ward in isolation under the control of the state's Intelligence Ministry.
Despite facing medical issues necessitating treatment and the lack of a formal detention order, she endured prolonged interrogations lasting for a month and a half. This information was disclosed by a source well-versed with the case, who, for safety reasons, preferred to remain anonymous while speaking to CHRI.
A week later, she was transferred to a ward specifically designated for political prisoners. Despite being kept in the dark about any charges brought against her, Shafiei-Dehaghani may potentially face trial in the upcoming weeks of November 2023, at Branch 26 of Iran's Revolutionary Courts, overseen by Judge Iman Afshari.
This court system is notorious for depriving individuals accused of dissent or peaceful activism of their fundamental due process rights. It subjects them to sham trials where independent counsel and the opportunity to present a full defense are denied.
Earlier, on October 10, 2022, less than a month after she was initially arrested, security agents raided Shafiei-Dehaghani's home and confiscated personal belongings, including books, articles, and scientific works belonging to her and her daughter.
Portions of Shafiei-Dehaghani's testimony, translated from Persian into English by CHRI and shared here, shed light on the inhumane treatment of peaceful protesters in Iran. This warrants investigation by human rights experts, including the UN's Fact-Finding Mission on Iran.