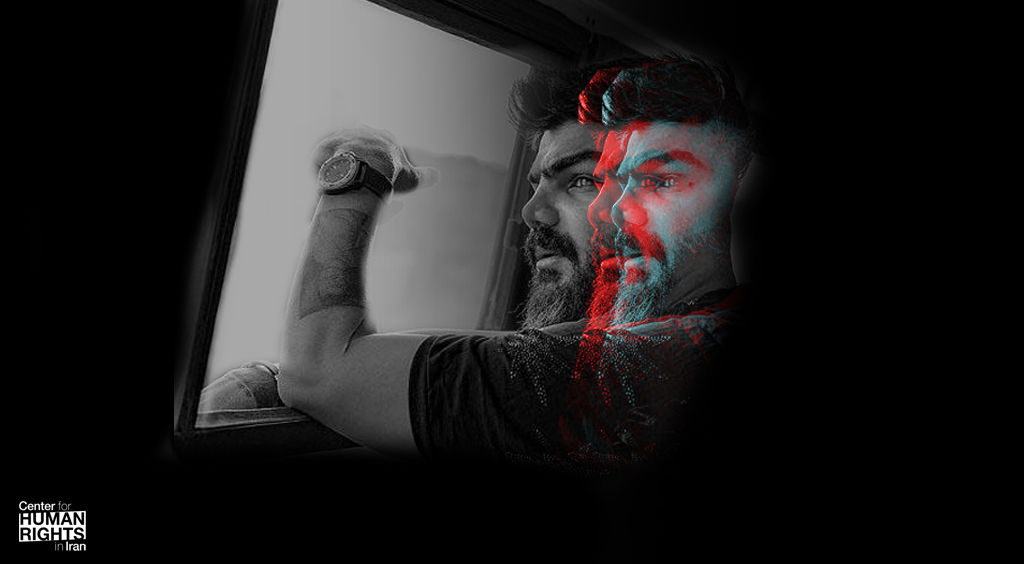 July 24, 2023 – The forced psychiatric hospitalization of jailed rapper Saman Yasin in Iran shortly after he demanded due process and justice for his case highlights the Iranian government's continued weaponization of medical treatment in order to suppress dissent, in flagrant violation of international and Iranian law.
Yasin was also previously tortured to force him to confess to a crime, according to information obtained by the Center for Human Rights in Iran (CHRI).
These major rights violations should be documented by the Independent International Fact-Finding Mission on Iran. The UN and world leaders should meanwhile institute measures to demand the Islamic Republic stop using violence, torture, forced medical treatment and arbitrary detention to muzzle dissent.
"The government in Iran has a history of using torture and involuntary psychiatric hospitalization to coerce political prisoners into making false 'confessions' and punish them over and beyond their unjust detention," said CHRI Executive Director Hadi Ghaemi.
"The authorities' aim is to crush dissent," he added. "Yet Iranians are refusing to give up; their calls for justice should be amplified around the world as forcefully as the government's rights violations should be punished and condemned."
Tortured, Denied Access to Counsel, Unlawfully Hospitalized without Consent
After 10 months of being detained, Saman Yasin, a 27-year-old rapper of Kurdish descent, broke his silence to describe his case, which has not only included torture and forced confessions, but also the forced use of a state-appointed lawyer who has been denied access to his case files, and now forced psychiatric hospitalization without cause or consent.
Yasin's torture during the first two weeks of his 10-month detention, according to information sent to CHRI on the condition of anonymity for security reasons, included:
    Being subjected to a mock execution, including having a noose put around his neck
    A pencil being forced into his nose, which broke his nose
    Being pushed down the stairs twice
    Being forced to sit in a walker-in freezer intermittently over the course of two days
    Being told his family would be tortured if he did not confess to a crime
At the time of Yasin's mock execution, he was sharing a cell with Mohsen Shekari, a 23-year-old protester who was executed in December 2022 in Rajaee Shahr prison in Karaj, located 20 miles west of Tehran.
CHRI is deeply concerned that Yasin, who was initially sentenced to death under "moharabeh" (enmity against God) on the unsubstantiated charge of murdering a state security force member, is now having his retrial handled by Judge Abolqasem Salavati, who is notorious in Iran for issuing harsh sentences against individuals accused of engaging in dissent or activism.
Before his first court session with Salavati, Yasin was ordered to shave his beard, but keep a mustache, according to the information received by CHRI. In Iran, one stereotypical and disparaging belief is that men with mustaches are criminals; the order was issued by Salavati, which suggests his intent to treat Yasin as guilty from the beginning.
Yasin was also pressured to make statements on camera alleging that he had joined street protests at the behest of foreign news stations and activists, which he refused to do.
Currently held in Evin Prison, Yasin was "attacked and arrested by security forces in the middle of the night at my home" on September 30, 2022, he said, amid state security forces' violent repression of major anti-state protests that had erupted across Iran in September 2022 after the death in state custody of Jina Mahsa Amini for her allegedly improper hijab.
Yasin was accused of killing a state security force member and, while being denied access to independent counsel and a fair trial, initially sentenced to death a few weeks later. Under appeal, the Supreme Court accepted his request for a re-trial, and referred his case back to the Islamic Revolutionary Court, but the case has remained in limbo since then.
Yasin, Under Pressure, Breaks Silence and Is Quickly Punished
"I don't know what crime I've committed that even the state-appointed lawyer doesn't have the right to work on my case," he said in an audio message that was shared online on July 21, 2023, referring to the fact that his assigned lawyer, Hossein Sartipi, told him Judge Salavati wouldn't allow him to review and investigate his case. That was the first time Yasin had been heard from since his arrest.
"If I've committed a crime and you have evidence, reveal it, and give me a sentence," he added. "If I'm innocent, then release me. Why are you leaving me in uncertainty?"
Two days later, it was reported that Yasin was hospitalized at the Aminabad Hospital, also referred to as the Razi psychiatric hospital in Shahr-e-Rey in southern Tehran. This is the same hospital where political prisoner Behnam Mahjoubi was tortured before dying at different hospital in Iranian state custody.
Yasin did not provide consent to the hospitalization, a source with detailed knowledge of his case told CHRI. This form of arbitrary detention is a violation of International Covenant on Civil and Political Rights (ICCPR), to which Iran is a signatory.
Article 9 states, "No one shall be subjected to torture or to cruel, inhuman or degrading treatment or punishment. In particular, no one shall be subjected without his free consent to medical or scientific experimentation."
Iran's own Guidelines for Special Situations in Rehabilitation and Treatment Centers for Psychiatric Patients also stipulate that if a person with acute mental health conditions has not been declared "incapacitated" by medical or judicial authorities, her/his personal consent is necessary to carry out any medical treatment.
"No one informed us about this [transfer to the psychiatric hospital]," Yasin's mother, Fozieh Kurani, told the Shargh newspaper. "We are not powerless. We plan to go from Kermanshah to Tehran to see what has happened."
"At the moment, we have no news about Saman's condition," she added. "The last call from Saman was three to four days ago. I have heard no news from him since then. He said he was very upset and confused about his situation, but he did not mention that they were going to transfer him…"
Pattern of Sending Political Prisoners to Psychiatric Hospitals without Cause or Consent
Numerous political prisoners and dissidents—as well as detained children—in Iran have been unlawfully forced into psychiatric hospitals without cause or their consent, as well as forced to undergo so-called psychiatric evaluations, according to research by CHRI.
So prevalent has been the practice in Iran that four mental health associations there recently condemned the practice in a joint letter to Judiciary Chief Gholam-Hossein Mohseni Ejei.
"The diagnosis of mental disorders is the responsibility of a psychiatrist, not a judge; just as the diagnosis of other diseases is the responsibility of doctors, not judges," said the letter, which was signed by the presidents of the following associations: the Scientific Association of Psychiatrists of Iran, the Scientific Association of Psychosomatic Medicine of Iran, the Scientific Association of Psychotherapy of Iran, and the Iranian Psychological Association.
"The application of psychiatric diagnosis to punish individuals is a form of misuse and has irreparable consequences, both in terms of violating human dignity, with the aim of humiliation, and damaging the social status of many people suffering from mental health problems, complicating mental health services to those in need, and tarnishing the face of psychiatry and psychology in the world," added the associations, which published the letter in July 2023.
The associations specifically referenced the case of Afsaneh Bayegan, who was sentenced to bi-weekly therapy sessions for refusing to wear the hijab in public, for what the court referred to as "anti-family personality." She was also issued a two-year "suspended" prison sentence, which means she could be imprisoned at any time, and banned from using social media or leaving the country for two years.
Children accused of engaging in anti-state protests have also been sent to psychological centers in Iran, for "reforming and educating them" according to the Iranian government's dictates, Education Minister Yousef Nouri told the Shargh Daily when the protests were at their height in October 2022.
This practice was strongly condemned in by group of doctors in a correspondence published by the influential peer-reviewed medical journal, The Lancet.
"As a group of psychiatrists, we strongly condemn the use of psychiatric and psychological services as a corrective measure in political conflicts," said the doctors. "This approach leads to arbitrary psychiatric confinement, especially in a country that has no mental health laws.
"Such practices are clear violations of human rights and are concerning for many other reasons, including wrongly pathologizing opinions and values that differ from that of a ruling regime," they added.
Other political prisoners and detainees who've been subjected to unlawful and involuntary medical treatment in Iranian state custody—in addition to children protesters, Yasin, and the actress Afsaneh Bayegan mentioned in this report—include:
    University student Melika Gharegozlou
    Human rights lawyer Payam Derafshan
    Teachers' rights activist Hashem Khastar
    Political activist Leila Mirghafari
    Journalist Kianoush Sanjari
    Political activist Sakineh Parvaneh
    Political activist Farzin Rezaie-Roshan
    Political activist Ali Nouri
    Baha'i faith member Meysam Bahramabadi
    Political activist Amir Mehdi Tabasi
    Journalist and activist Hengameh Shahidi
    Political activist Zahra Jabari