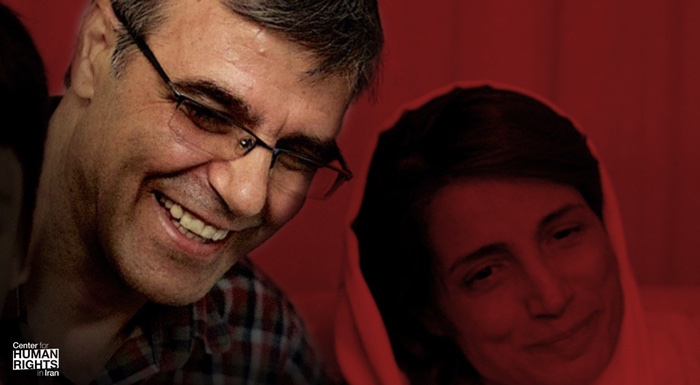 February 14, 2023 – The human rights activist Reza Khandan, who is the husband of the prominent human rights lawyer Nasrin Sotoudeh, has been summoned to report to prison within 30 days to begin serving a six-year sentence (five years mandatory) that was issued in 2019, according to his lawyer, Mohammad Moghimi.
The summons for Khandan to report to prison came only days after his wife gave an interview to CNN, in which she said the protesters of Iran want regime change. The move is seen as a blatant attempt by the Iranian authorities to pressure Sotoudeh, as well as her husband, into silence.
"The Iranian authorities are going after Reza Khandan because he and his wife, Nasrin Sotoudeh, refuse to be silent in the face of the slaughter of young men and women protesting the Islamic Republic's tyranny," said Hadi Ghaemi, executive director of the Center for Human Rights in Iran (CHRI).
"The international community should speak out forcefully against this blatant attempt to muzzle and punish this brave family and warn the Iranian authorities against returning Khandan or Sotoudeh to prison," Ghaemi added.
Nasrin Sotoudeh, one of the country's top defense attorneys and human rights advocates, has spent years in and out of Iranian prisons. The most recent prosecution was her sham conviction in 2018 on charges including "encouraging prostitution" for advocating against the compulsory hijab.
She was sentenced to 38 years in prison, 12 of which are mandatory, after she defended women who were being prosecuted for peacefully protesting against the compulsory hijab.
Arrested in 2018 for his social media postings about the unfair trial and imprisonment of his wife Sotoudeh, Khandan, along with fellow women's rights activist Farhad Meysami, were both sentenced on January 22, 2019, to six years in prison (five years mandatory prison) on charges of "assembly and collusion against national security" and "propaganda against the state" at Branch 15 of the Revolutionary Court in Tehran, presided by the notorious hardline Judge Abolqasem Salavati.
Khandan and Meysami were also banned from leaving the country or engaging in online activities for two years for peacefully protesting the country's compulsory hijab policy.
Khandan was released on bail on December 24, 2018, and his sentence had not been enforced until just days after Sotoudeh's interview with CNN.
Meysami was forced to serve nearly 4.5 years in prison. He was finally freed on February 10, 2023, after going on a life-threatening hunger strike, and widely circulated images of Meysami's emaciated body created public outrage. He was forced to post bail to secure his release.
Khandan and Sotoudeh have two children, Mehravaeh Khandan, who is in her early 20s, and a son, Nima, who is in his early teens.
Sotoudeh is currently on furlough from prison, since July 2021, for medical reasons. She can be returned to prison at any time. It is unclear what will happen to the children if both their parents are imprisoned at the same time.
"Islamic Republic's state forces use the gun to silence peaceful protest, and the judiciary uses the gavel," said Ghaemi. "Both are working together in violation of the most fundamental international laws to crush dissent in Iran."