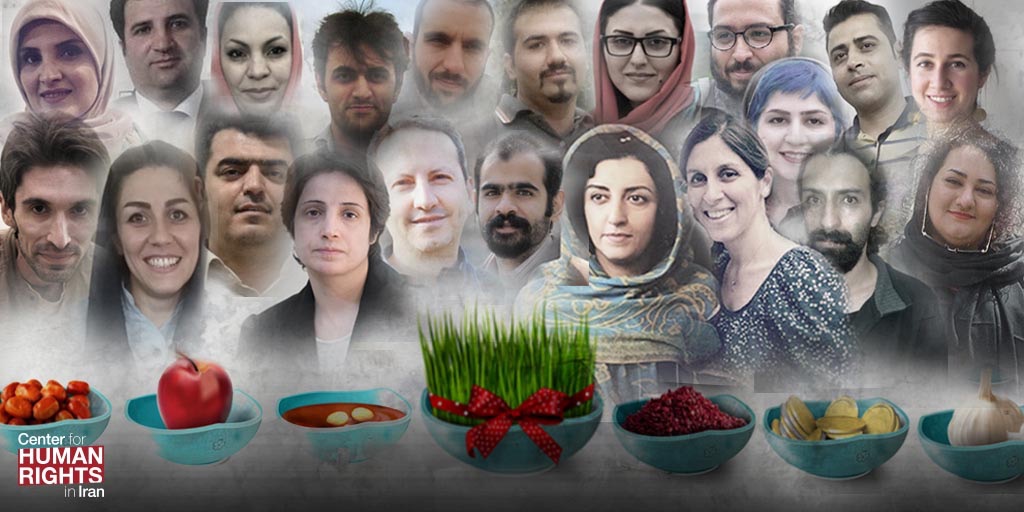 2019-03-20 – Spring is in the air and for millions of people around the world including Iran, it marks the beginning of a new year. The ancient festival of Nowruz ("new day") is celebrated at the end of winter with festivities symbolizing rebirth, renewal and the possibility of new beginnings.
Many Iranians will ring in the new year with family get-togethers, delicious food and picnics. But for Iran's political prisoners, this time of year is particularly painful. Separated from their loved ones and serving long jail terms for peaceful actions, Nowruz, which is marked in Iran with flowers and sweets, can be so bitter.
Iran's judiciary and security forces believe jail cells can silence these individuals but we won't let them. Following are excerpts of some of their letters we've translated over the years.
"…My children have grown up. They have changed. They only talk about their father. Their mother has no place in their daily lives… I'm not even in their dreams; I have ceased to exist for them." – Narges Mohammadi, 16-Year Sentence of Which She Must Serve 10, Letter to Her Children
"My beautiful daughter grew up walking along prison walls and going through metal gates and looking through the thick glass in meeting halls. I mark her growth on the wall next to the visiting booth. My daughter learned what prison is all about from a very early age." – Maryam Akbari-Monfared, 15-Year Sentence, Open Letter
"My love, think about a tomorrow when everyone will have a share of happiness… How small this prison is compared to our attainable dream of happiness and freedom" – Arash Sadeghi, 15-Year Sentence, Letter to his Wife
"Our Gisoo has grown taller. She understands now very well that her father and mother are not together… The most painful part of this whole affair is that neither of us have witnessed our daughter grow up." – Nazanin Zaghari-Ratcliffe, Five-Year Sentence, Letter to her Husband
"How could I witness the execution of juveniles in my country and be silent? How could I close my eyes to child abuse cases … to be able to accompany you to school on the start of the new academic year along with your father? I just couldn't, my son. That was my sin." – Nasrin Sotoudeh, 38-Year Sentence of Which She Must Serve 12, Letter to her Children
These courageous women and men are in prison for defending human rights, and we will never stop advocating for their freedom. Let us hope that this new year will bring justice for Iran's political prisoners so they can celebrate next Nowruz with their families.
Visit Our Website: www.iranhumanrights.org