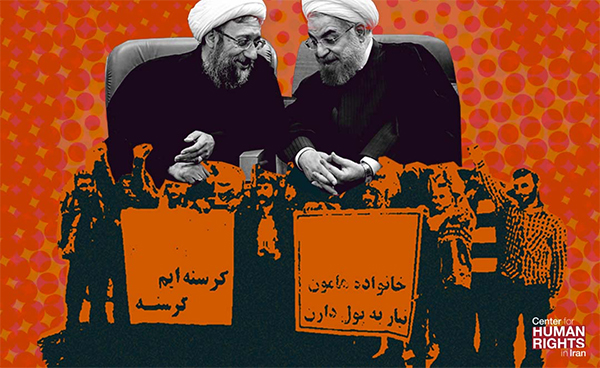 Unpaid Wages Violates Iranian Law,Flogging Violates International Law
December 13, 2018—In yet another ruling punishing workers for peacefully demanding payment for work done, fifteen petrochemical workers in Ilam, southwest Iran, have been issued prison and flogging sentences for protesting unpaid wages and the firing of their colleagues who demanded payment.
The Center for Human Rights in Iran (CHRI) condemns these convictions, which represent violations of Iranian and international law regarding the requirement that persons be paid for work completed, the right to peaceful protest and the prohibition against flogging, a punishment the UN has asserted is tantamount to torture.
CHRI urges the authorities in Iran to immediately:
Halt the execution of these sentences.
Stop the prosecution of any person for peacefully protesting unpaid wages.
Acquit in the appeal process all those who have been convicted for peacefully protesting unpaid wages.
Release anyone who is under detention for such protest.
Address the pervasive problem of unpaid work In Iran as well as workers' inability to peacefully protest unpaid wages or organize independently and effectively in order to peacefully press grievances and bargain collectively.
"Not paying for work that people have been hired to do and have completed is no different from theft," said Hadi Ghaemi, CHRI executive director.
"It is outrageous that Iranian companies are not only getting away with this, the government is protecting them by prosecuting individuals who dare to protest this unlawful behavior," Ghaemi said.
The sentences were reported by Iran Kargar (Iran Worker) on December 7. The independent labor news site said the verdicts were handed down by Branch 104 of the 2nd Criminal Court in Ilam on December 5, adding "It appears that that these anti-labor and inhuman sentences are aimed at intimidating brave workers… teachers and students."
The site said Milad Dousti was sentenced to two years in prison and 74 lashes, while Afshar Rashidi, Anvar Rashidi, Sadegh Rostami, Nader Khaki, Mohammad Saleh Gheitasi, Tohid Gheitasi, Saeed Gheitasi, Sadegh Kakakhani, Ali Kakakhani, Amin Arkvazi, Hojat Esmaili, Abbas Mozaffari, Mohammad Heydari and Ali Nejat Azami were each sentenced to six months in prison and 74 lashes.
The issue of unpaid wages has been a continuous one in Iran over the last few years, with numerous companies in a broad range of sectors, including steel, sugar refining, equipment manufacturing and other industries refusing to pay workers—at times for months on end. When workers protest they are arrested. The current case involving the 15 petrochemical workers followed the typical sequence of events.
The workers were convicted based on a complaint lodged by the Ilam Petrochemical Company (IPC) in connection with a mass protest in Ilam in April 2018 in support of workers who had been fired for demanding months of unpaid salaries and benefits as well as an end to the firm's refusal to hire local people living in the province.
In 2014, the company fired 104 workers and prevented them from returning to the plant for complaining about not getting owed wages. The move was reversed by the Labor Ministry's mediators, which ordered IPC to reinstate the workers and pay their back salaries. The company appealed to the Administrative Justice Court, which has not yet issued its verdict.
The latest convictions of the 15 petrochemical workers—as well as the many previous prosecutions in Iran for peaceful protests against unpaid wages—reflect multiple violations of Iran's commitments under domestic and international law.
Iran's Labour Code specifies in Chapter III, Section 37 that "Wages shall be paid at regular intervals" and that "where wages are paid on a daily or hourly basis… each payment shall be calculated and effected at the end of the day, week or fortnight" and "where wages are paid monthly…payment shall take place at the end of each month." The Code explicitly states in Section 45 that an employer may withhold wages only if money has previously been advanced or loaned to the worker.
The International Labour Organization, of which Iran is a founding member, requires that wages be paid regularly, specifically stipulating that intervals for the payment of wages should not exceed once a month and that "final settlement is made within a fortnight of the completion of the task."
The International Covenant on Economic, Social and Cultural Rights, to which Iran is a State Party, mandates in Article 7 that "The States Parties to the present Covenant recognize the right of everyone to the enjoyment of just and favorable conditions of work which ensure, in particular remuneration…" and Article 8 explicitly states the right to strike.
Iran is also a State Party to the International Covenant on Civil and Political Rights (ICCPR), which guarantees the rights in Articles 21 and 22 to peaceful assembly and freedom of association, respectively.
In addition, flogging sentences violate international law in and of themselves. The UN has determined "sentences of flogging … violate the absolute prohibition of torture and other cruel, inhuman or degrading treatment or punishment, and that the Human Rights Committee has determined that these penalties are not compatible with the International Covenant on Civil and Political Rights (ICCPR), which the Islamic Republic of Iran has ratified."
"Companies refusal to pay workers for prolonged periods is catastrophically impacting people's ability to sustain themselves and their families, and the state's prosecution of people who try to address this is leaving Iranians defenseless," said Ghaemi.
"The international community should press the authorities in Iran at every turn to address this unlawful and inhumane state of affairs that has only intensified over the last year.