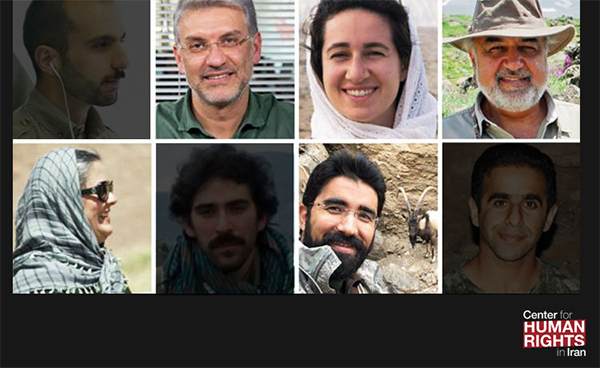 October 8, 2018 – Five out of the eight environmentalists who have been detained in Iran since January 2018, including an Iranian-American dual national, have been issued preliminary indictments eight months into their imprisonment.
The Center for Human Rights in Iran (CHRI) calls upon the authorities in Iran to immediately release all eight of the environmentalists, who have been imprisoned unjustly and denied their rights to due process.
"Iran's judiciary kept these individuals behind bars without access to counsel for eight months while the Revolutionary Guards cooked up charges against them," said Hadi Ghaemi, CHRI's executive director.
The detained environmentalists who have received preliminary indictments are Iranian-American dual national Morad Tahbaz, Taher Ghadirian, Niloufar Bayani, Houman Jowkar and Sepideh Kashani.
Those who have not yet been charged are Amir Hossein Khaleghi, Abdolreza Kouhpayeh and Sam Rajabi.
Attorney Mohammad Hossein Aghasi told CHRI on October 7, 2018, "The only charge mentioned so far is espionage.However, nobody except the judicial authorities has been able to see the indictments."
No trial dates have been scheduled.
Aghasi also told CHRI that he has not been officially allowed to represent Ghadirian and Rajabi but has been working on their cases. Since January, Iran's judiciary has forced detainees held on national security-related charges to pick their counsel from a list of 20 lawyers hand-picked by the judiciary.
The eight environmentalists were arrested on January 24 and 25, 2018, by the Islamic Revolutionary Guard Corps' (IRGC) Intelligence Organization.
They are all former and current staff members of the Iran-based non-profit organization, the Persian Heritage Wildlife Foundation (PHWF). The PHWF's Iranian Canadian chairman, Kavous Seyed-Emami, died in Evin Prison under highly suspicious circumstances two weeks after he was arrested.
Judiciary spokesman Gholamhossein Mohseni Ejei publicly claimed on February 15 that Seyed-Emami had committed suicide before there was an autopsy report. Despite calls for an investigation by the UN and Canada, no one has been held accountable for Seyed-Emami's death.
Instead, Iran has subjected Seyed-Emami's widow, Maryam Mobeini, to home raids and interrogations and banned her from leaving the country.
The environmentalists have been kept behind bars in Iran with extremely limited access to counsel despite calls for their release from inside and outside the country.
In May 2018, the head of Iran's Department of Environment, Vice President Isa Kalantari, refuted accusations that the environmentalists were spies, pointing to the conclusions of Rouhani's own Intelligence Ministry and fact-finding committee.
"It has been determined that these individuals were detained without doing anything," Kalantari said. "The Intelligence Ministry has concluded that there is no evidence that these individuals were spies."
"The [Rouhani] government's fact-finding committee [also] concluded that the detained activists should be released because there's no evidence to prove the accusations leveled against these individuals," he added.
Kalantari went further in an interview with the Islamic Republic News Agency  (IRNA) on August 13, 2018, saying, "The judiciary has ordered us not to get involved…They told us this is none of our business and we shouldn't pursue it."
Kalantari added, "The esteemed intelligence minister has repeatedly said there is no evidence that the detainees had spied and yet the judiciary has still not resolved their situation. Almost all of our NGOs are at a standstill because they don't know to what extent they can operate without being accused of spying."
President Hassan Rouhani has remained silent on the imprisonment of the environmentalists, and he has not responded to a letter by 800 Iranian environmentalists calling for their detained colleagues' release.
"President Rouhani should join the chorus of voices from the UN, around the world, and inside Iran who have demanded the release of the environmentalists — yet he remains silent," noted Ghaemi.
In September 2018, the environmentalists' families sent a letter to Supreme Leader Ali Khamenei calling for their loved ones' freedom.
"We beseech you to immediately order the release of our loved ones and pave the way for a fair judicial process with access to legal counsel," said the letter dated September 18, 2018.
In February 2018, shortly after Seyed-Emami's death, the UN issued a statement urging Iran to free the environmentalists and stop arbitrarily arresting them.
"The detention and punishment of environmentalists for their work to conserve and protect the natural environment cannot be justified," said several UN human rights experts in a joint in a February 2018 statement. "Nowhere in the world, including Iran, should conservation be equated to spying or regarded as a crime. Detention of human rights defenders for their work is arbitrary in nature."
Dozens of other environmentalists have been taken into custody throughout Iran since January but their conditions and judicial statuses are unknown.
"Iran recently took a complaint to a UN court but has ignored the UN's calls for these environmentalists to be freed," said Ghaemi. "The rule of law means you can't have it both ways—use the law when it suits you, trample it when it does not."
For interviews, contact:
Hadi Ghaemi
+1-917-669-5996
hadighaemi@iranhumanrights.org
Visit our website: www.iranhumanrights.org