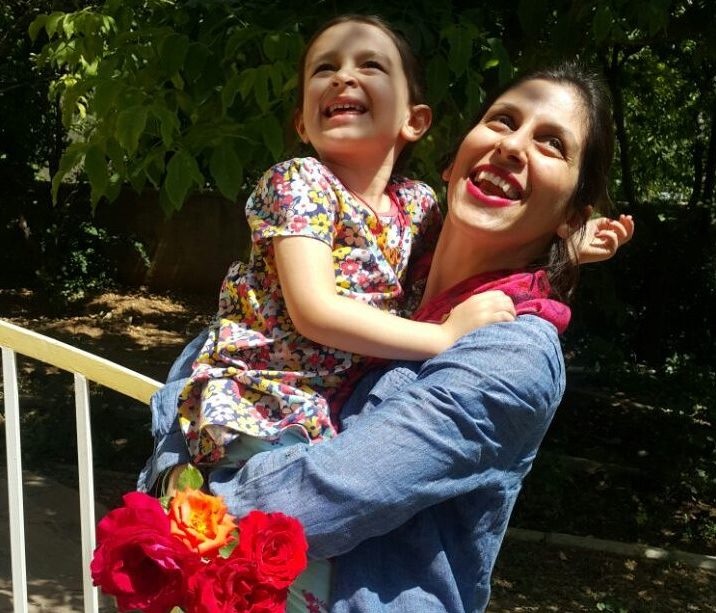 August 23, 2018 – The Center for Human Rights in Iran (CHRI) urges the Iranian Judiciary to turn the three-day furlough it has granted to Nazanin Zaghari-Ratcliffeinto permanent and unconditional release.
"Three days of temporary release after almost three years behind bars under bogus charges is far too little and too late," said CHRI's Executive Director Hadi Ghaemi.
"Iran's judiciary should immediately free Nazanin Zaghari-Ratcliffe to end the tragic saga she and her family have been suffering through," he added.
Two and a half years after being arrested by Iran's Islamic Revolutionary Guard Corps (IRGC) in April 2016, the Iranian British dual national was released on an unexpected and temporary leave from prison on August 23, 2018.
"Her lawyer is hopeful this can be extended," said Zaghari-Ratcliffe's husband, Richard Ratcliffe, on August 23 in an email sent to CHRI, adding that she is currently with her three-year-old daughter, Gabriella, and her parents in the city of Damavand.
"This was a very happy surprise after a number of false dawns recently, which had been increasingly unsettling," he added before thanking the UK's new Foreign Secretary Jeremy Hunt "for all his recent efforts and considerations."
It is standard practice in Iran for political prisoners to receive extensions or permanent release after being granted a brief leave from prison.
Zaghari-Ratcliffe is not under house arrest but has been prohibited from giving interviews, leaving the country, or visiting the UK embassy in Iran as conditions of her furlough. She was also required to sign a document stating that she would return to the prison after the furlough period ends.
According to the Free Nazanin campaign, Zaghari-Ratcliffe's father had asked that she be given furlough for a month (her legal entitlement is currently 29 days) so that she and Gabriella could rebuild their relationship. The deputy prosecutor responded, "Let us take her out first, and then decide on a number of days after that."
On July 24, 2018, a judge had told Zaghari-Ratcliffe that she would not be permanently released until the UK paid an old debt it owes Iran.
"Judge Abbasi has confirmed what we have been suspecting for some time," said Ratcliffe in a statement sent to CHRI at the time. "His statements confirm that Nazanin is being held in prison as a bargaining chip. But to express it so bluntly is shocking to us."
A former staff member of the Thomson Reuters Foundation in London, Zaghari-Ratcliffe was arrested by the IRGC's Intelligence Organization in April 2016 and ultimately sentenced to five years in prison under unspecified espionage charges in a trial severely lacking in due process.
She became eligible for release according to Iranian law in November 2017. However, in May 2018 she was charged with "propaganda against the state" by Judge Abolqasem Salavati of Branch 15 of the Revolutionary Court in Tehran and ordered to hire a new lawyer.
"Releasing this mother of a toddler for three days after imprisoning her under trumped up charges for nearly three years is neither a favor nor a show of compassion," said Ghaemi.
"It is a reminder of the cruelty of a justice system that imprisons people with no respect for due process or the rule of law and rips apart families solely for political purposes," he added.
At least 11 other dual and foreign nationals as well as foreign permanent residents were imprisoned in Iran as of August 2018.
For interviews, contact:
Hadi Ghaemi
+1-917-669-5996
hadighaemi@iranhumanrights.org
Visit our website: www.iranhumanrights.org