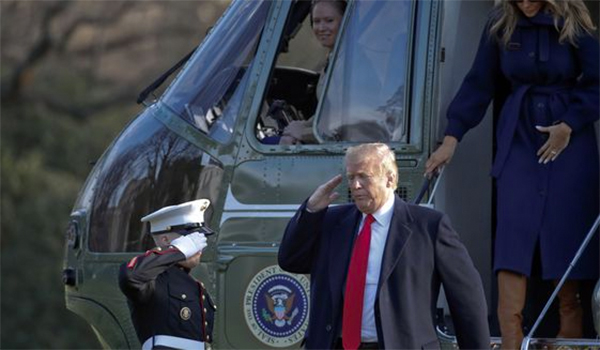 By Dave Boyer – The Washington Times – Monday, March 19, 2018
President Trump delivered a blistering criticism of Iran's regime Monday in a message marking Nowruz, the Persian new year.
While noting that Iran is historically a proud nation with a strong culture, Mr. Trump said Iranians today are grappling with "rulers who serve themselves instead of serving the people."
"Twenty-five centuries ago, Darius the Great asked God to protect Iran from three dangers: hostile armies, drought, and falsehood," the president said. "Today, the Iranian regime's Islamic Revolutionary Guard Corps represents all three."
He said the corrupt IRGC "brutalizes and steals from the Iranian people to fund terrorism" in Syria, Iraq and Yemen.
"Meanwhile, the average Iranian family is 15 percent poorer today than it was 10 years ago, and nearly 30 percent of Iran's youth are unemployed," the president said. "Ordinary Iranians struggle economically and find it difficult to celebrate holidays like Nowruz."
A year ago, Mr. Trump's first Nowruz greeting was brief, and it didn't mention the failings of the Iranian government.
But this year, Mr. Trump said of Iran, "deceit has become official state policy."
"The IRGC employs propaganda and censorship to hide the fact that the Iranian regime plunders Iran's wealth and abuses its people," he said. "To hide the truth, Iran's rulers suppress their own citizens' rights to free assembly, access to information, and equal opportunity."
He said Iranians are rebelling against the oppression and "long for a springtime of hope."
"The United States stands with the Iranian people in their aspirations to connect to the wider world and have a responsible and accountable government that truly serves their nation's interests," Mr. Trump said. "On behalf of the American people, may light prevail over darkness in this New Year, and may the Iranian people soon enjoy a new day of peace, prosperity, and joy."
He concluded his message, "Nowruz Pirouz (Happy Nowruz)."