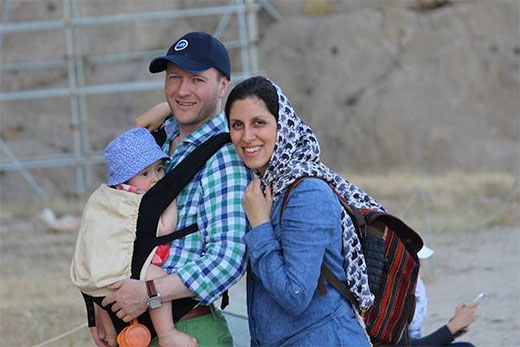 December 21, 2017–The husband of Nazanin Zaghari-Ratcliffe has stated that the Iranian-British dual national, who is currently serving a five-year sentence in Tehran's Evin Prison, is now eligible for "early release" and that her lawyer was "hopeful" when he visited her on December 20, 2017.
"He told her that it's a matter of finalizing paperwork and it might be days to weeks rather than tomorrow morning," Richard Ratcliffe told BBC Radio 5 on December 21.
"Nazanin Zaghari-Ratcliffe's release is long overdue," said Hadi Ghaemi, the executive director of the Center for Human Rights in Iran (CHRI).
"Iran's Revolutionary Guards and judiciary should have never colluded to imprison Zaghari-Ratcliffe in the first place," he added. "Releasing her now is the least the judiciary can do to put an end to the unjust and cruel treatment of this dual national."
CHRI has urged Iran to respect its domestic and international obligations by allowing prisoners access to basic rights and due process, which Zaghari-Ratcliffe was repeatedly denied.
Ratcliffe told the BBC that he felt there was a "change of the tide" since Foreign Secretary Boris Johnson traveled to Iran in early December to discuss Zaghari-Ratcliffe's case.
"And now suddenly the database is shifting and saying eligible for early release," he said.
Tulip Siddiq, a member of Parliament representing Hampstead and Kilburn where Zaghari-Ratcliffe lives in London, said in a statement on December 21 that the news "is a glimmer of light at the end of a dark tunnel for my constituents Richard, Nazanin, and Gabriella."
The couple's daughter, three-year-old Gabriella Ratcliffe, has been living in Tehran with her grandparents since the Islamic Revolutionary Guards Corps (IRGC) arrested Zaghari-Ratcliffe on her way back home to London from Tehran in April 2016.
"It has given Nazanin a real boost of positive energy, and now we wait impatiently to see what happens next," said Siddiq.
"Although we do not want to celebrate prematurely, it would be the perfect Christmas gift to see Nazanin released and back with her family where she belongs," she added.
A researcher for the Thomson Reuters Foundation in London, Zaghari-Ratcliffe was arrested in Tehran in April 2016 while waiting for a flight back home with her two-year-old daughter after visiting family. She is serving a five-year prison sentence on unspecified espionage charges.
Zaghari-Ratcliffe became eligible for early release according to Iranian law in November 2017, however, at the time she was told she could face additional years in prison for new charges that appear to have never been brought.
Iran's state-run Islamic Republic of Iran Broadcasting (IRIB) recently ran a smear campaign on Zaghari-Ratcliffe, accusing her of spying for the British government.
IRIB has repeatedly colluded with Iran's judiciary and security forces, including the IRGC, to convince the Iranian public that defendants held in politically motivated cases are guilty of committing crimes.
The state-run news service also broadcasts forced confessions by detainees, in clear violation of international provisions on fair trials and the right to due process.
Judicial officials misrepresented Zaghari-Ratcliffe's past jobs and her British citizenship to persuade the UK government to negotiate with the Iranian government for her release, Ratcliffe told CHRI in October 2017.
"He [the Tehran prosecutor] emphasized that she has a British husband, that she is British-Iranian and worked for the BBC—that big British institution—and kind of suggested that the British government needs to do something," he said.
Ratcliffe said both governments are responsible for upholding the rights of their citizen.
"The British government needs to protect its citizens and the Iranian government needs to protect its citizens from being used as bargaining chips," he said.
For interviews, contact:
Hadi Ghaemi
+1-917-669-5996
hadighaemi@iranhumanrights.org
Visit our website: www.iranhumanrights.org