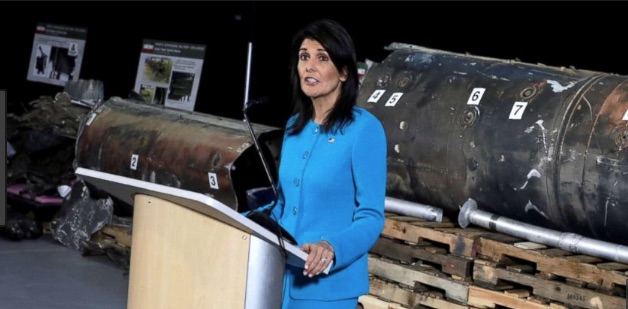 2017-12-15 – France 24 – The United States on Thursday presented pieces of what it said is the missile fired at Saudi Arabia by Houthi militia in Yemen, describing it as conclusive evidence of Iran involvement and its violation of UN resolutions.
Reuters was given advanced access to the military hangar at Joint Base Anacostia-Bolling just outside of Washington where the U.S. Defense Department put the fragments of weaponry on display and explained how it concluded that they came from Iran.
The arms included charred remnants of what the Pentagon said was an Iranian-made short-range ballistic missile fired from Yemen on Nov. 4 at King Khaled International Airport outside Saudi Arabia's capital Riyadh, as well as a drone and an anti-tank weapon recovered in Yemen by the Saudis.