The Guardian – 06. September 2017 –
Syrian women are allowed into stadium but Iranian women are kept out, despite initially being allowed to buy tickets
Female Iranian MPs have spoken out against a ban on women entering sports stadiums after some fans were prevented from watching a World Cup qualifying match in Tehran between Iran and Syria.
Both genders were initially allowed to purchase tickets for Tuesday night's game, but the option for women to make purchases was removed by officials who blamed a "technical glitch".
A group of women who went to Tehran's gigantic Azadi stadium were told they could not enter. When they started demonstrating they were threatened with arrest.
Female Syria supporters were allowed to enter and cheer for their team. Some did not wear a hijab even though it is compulsory for all women in Iran, including foreigners.
The ban dominated some of the newspaper front pages in Tehran on Wednesday. "An Iranian paradox," read the headline of the Bahar newspaper, which complained that "the host was left outside behind the doors, while the guest went inside the stadium". An image of Syrian fans carried by Bahar's front page was juxtaposed with another image showing Iranian women protesting outside.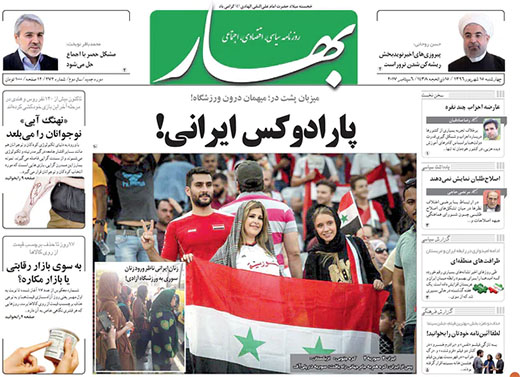 Iranian women are allowed to watch women's football matches, but not matches played by men. Although women in Iran have been fighting for an end to the discriminatory rules for some years, it was the first time national newspapers have given the issue prominent coverage.
A number of female MPs called for a change in the practice. One, Fatemeh Hosseini, said she was planning to summon the sports minister to question him about the ban. "What would you do to end this discrimination?" she asked the minister on her Twitter account.
Nahid Tajedin, a reformist MP from Isfahan, tweeted: "The most deplorable part of yesterday's match at Azadi stadium is that a new discrimination based on your nationality is being added to the gender discrimination already in place. Syrian women were allowed but Iranian women were absent."
Farnaz, a 24-year-old student of electrical engineering at Isfahan University of Technology, said she had made a seven-hour bus journey from her city to Tehran to watch the match. She said that in April she had managed to enter the Azadi stadium disguised as a male fan to cheer for her favourite club, Persepolis.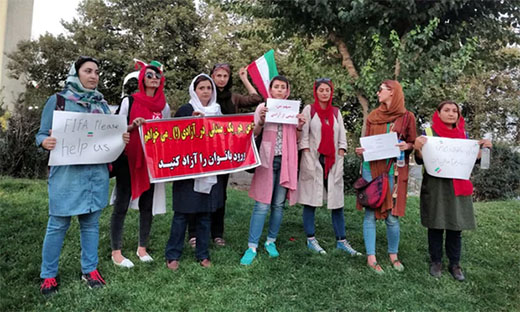 "I didn't want to stay at home and do nothing. I wanted to at least protest," she told the Guardian by phone from Isfahan. "I printed a banner, which the guards confiscated from me in the most brutal manner." A picture taken outside the stadium shows her face painted with an Iranian flag, as she holds up a placard that reads: "I, too, want a seat at Azadi – let women in." Azadi means freedom in Farsi.
Shiva Nazar-Ahari, a prominent women's rights campaigner previously imprisoned for her activism, said around 20 women had protested outside the stadium. She said she had bought two tickets earlier in the week, each priced at 15,000 rials (around £3).
"We were hopeful that they would let us in. We queued up for two hours. They said they needed to check if they could let us in, and at times we thought they were going to do so, and we saw Syrian female fans passing through without a problem, and then they said: 'No, you can't enter,'" she said by phone. "It was a very bitter experience. I was close to tears – never before have I felt so defeated and humiliated."
Tuesday's game ended 2-2, keeping Syrian hopes alive for reaching the World Cup finals in Russia next year.
Iran, which has already secured its place in the finals, is a staunch supporter of Bashar al-Assad's regime. One user on social media joked: "The guards will struggle to decide which team to support."