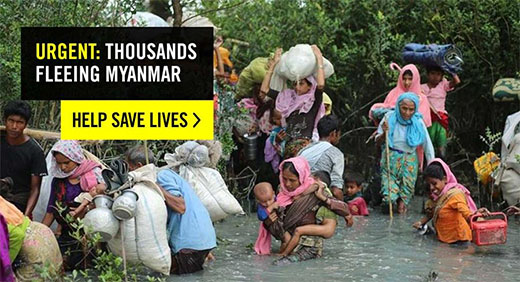 08.09.2017 – Amnesty international: In less than 2 weeks, more than 150,000 Rohingya people have fled Myanmar to nearby Bangladesh. Reports are flooding in of killings by the Myanmar security forces, as satellite images suggest that entire villages have been burned.
Many more are risking their lives by trying to escape in fishing boats, travelling from Myanmar to Bangladesh – some are badly injured, and with children.
All the refugees are confirming that the attacks are by the Myanmar security forces.
Thousands of people – mostly Rohingya – are also believed to be stranded in the mountains of northern Rakhine State. They are being denied basic aid because NGOs and humanitarian organisations are not being allowed access to the area.
This isn't the first time Myanmar Security Forces have abused Rohingyas – in the last year, they have tortured, raped, arrested and disappeared many of them, and destroyed their homes and property.
We will not let the Myanmar military and security forces commit this vicious campaign of violence against the Rohingya people.
Help stop the violence against the Rohingya people in Myanmar and demand that the Chief Commander Senior General Min Aung Hlaing:
Immediately end its campaign of violence and human rights abuses
Ensure free and unimpeded access to Rakhine state to humanitarian actors, the UN, independent journalists and human rights monitors and ensure their security.