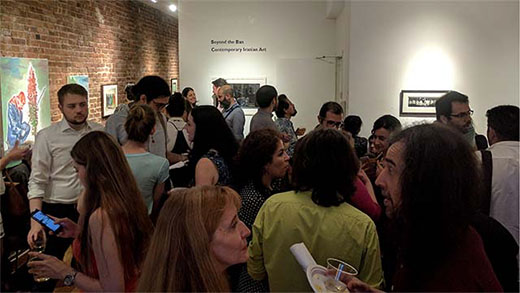 June 21, 2017—Works by prominent Iranian-American artists were showcased to a packed house on June 14, the opening night of the "Beyond the Ban" art exhibition, a collaboration between the Center for Human Rights in Iran (CHRI) and the Susan Eley Fine Art gallery in New York City.
The exhibition features the works of leading artists including Shirin Neshat, Nicky Nodjoumi, and Nahid Hagigat. Ninety percent of the proceeds will benefit CHRI's work protecting and promoting human rights in Iran. The exhibit will run from June 14 to August 30.
"We wanted to show the work of these brilliant artists—and also to show the creative richness of the very people that the US travel ban on six Muslim-majority nations will keep out," said CHRI's executive director Hadi Ghaemi.
"Artists in Iran already face arbitrary laws and repressive practices that stifle freedom of expression," Ghaemi said. "The travel ban will only keep these gifted individuals from engaging with wider audiences—and give the authorities in Iran a freer hand in insulating Iranian society from the outside world."
President Donald Trump's Executive Order 13769, which he has referred to as a "travel ban," would ban citizens from six Muslim-majority nations, including Iran, from traveling to the US for 90-days and halt the refugee program for 120 days. The ban has not gone into effect yet due to injunctions by two US federal courts.
Renowned painter Nicky Nodjoumi, who curated the collection, said the participating artists "enthusiastically supported the cause." Non-donated works were also exhibited to highlight the "depth and the richness of the immigrant Iranian artistic community's contributions to American society."
"At a time when cultural exchange is most important, immigrant Iranian artists confront two fronts of struggle: one against expulsion and the US travel ban, and one against censorship regulations imposed by the Iranian government," said Nodjoumi.
"Both are a violation of human rights and the 'Beyond the Ban' show displays the struggle of Iranian artists against both fronts," he added.
The exhibit demonstrates the rich stylistic and thematic variety of art being produced today by the vibrant community of Iranian artists living in the US.
"In nations where human rights are abused, the arts and artists are often the first to suffer," said gallery director Susan Eley. "Yet we express our most creative selves through the arts—writing, fine art, theater, dance and music."
Interested buyers can also view the catalogue and contact the gallery or CHRI to purchase the works online.
For interviews, contact:
Hadi Ghaemi
+1-917-669-5996
hadighaemi@iranhumanrights.org
Visit our website: www.iranhumanrights.org
This message was sent to iransos@wuk.at from info@iranhumanrights.org
Iran HumanRights
Center for Human Rights in Iran
137 Montague St
New York, NY 11201