Iran Focus

<![if !vml]>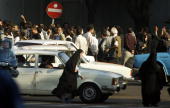 <![endif]>Tehran, Jun. 12 – A protest that began with a gathering of dozens of women in downtown Tehran this afternoon drew thousands of anti-government protesters and streamrolled into one of the largest demonstrations against Iran's clerical rulers in recent months.

The protest began in front of Tehran University as a small group of women began chanting "freedom, freedom" and calling for a referendum on religious rule.

The rally grew rapidly as thousands of local inhabitants and passers-by joined the protesters.

Hundreds of uniformed and plain-clothed security agents quickly circled the protestors to prevent thousands more joining their ranks. Agents of the notorious secret police, the Ministry of Intelligence and Security (MOIS) and the paramilitary Bassij forces were ferried to the streets around Tehran University to disperse the demonstrators.

<![if !vml]>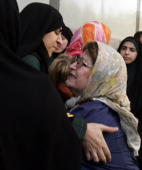 <![endif]>The mainly young protesters, many in their teens, defied the security forces' assaults and chanted slogans against the upcoming presidential elections, calling it a masquerade.

Cries of "Freedom, equality, down with dictatorship" could be heard at the scene, as protestors tore down campaign posters of all election contenders and urged passers-by to boycott the polls.

Protesters were able to break through police ranks in Enghelab Street and move towards Enghelab Square and then Karegar Avenue. Thousands had joined the throngs of protesters as they made their way towards Keshavarz Boulevard, destroying all election posters and placards on their way.

In a reference to gender inequality in the theocratic state, protesters chanted, "Unequal law, inhuman justice", "human rights can only exist in a free Iran", and "Misogyny is the root of tyranny".

Security agents and paramilitary policemen were seen hitting women with batons. In some cases, angry women protesters retaliated and beat some of the security agents before being dragged to security forces' vans and driven away.

By nightfall, sporadic clashes were still being reported in several streets near the main route of the protest.