Amnesty International

Iran
<![if !vml]>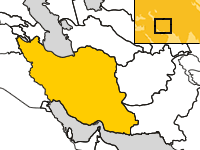 <![endif]>
Iran
ISLAMIC REPUBLIC OF IRAN
Leader of the Islamic Republic of Iran:
Ayatollah Sayed 'Ali Khamenei
President:
Hojjatoleslam val Moslemin Sayed Mohammad Khatami
Death penalty:
retentionist
UN Women's Convention and its Optional Protocol:
not signed
Scores of political prisoners, including prisoners of conscience, continued to serve sentences imposed in previous years following unfair trials. Scores more were arrested in 2003, often arbitrarily and many following student demonstrations. At least a dozen political prisoners arrested during the year were detained without charge, trial or regular access to their families and lawyers. Judicial authorities curtailed freedoms of expression, opinion and association, including of ethnic minorities; scores of publications were closed, Internet sites were filtered and journalists were imprisoned. At least one detainee died in custody, reportedly after being beaten. During the year the pattern of harassment of political prisoners' family members re-emerged. At least 108 executions were carried out, including of long-term political prisoners and frequently in public. At least four prisoners were sentenced to death by stoning while at least 197 people were sentenced to be flogged and 11 were sentenced to amputation of fingers and limbs. The true numbers may have been considerably higher.

Background

The development and fulfilment of human rights in Iran were adversely affected by the political stalemate between supporters and opponents of reform. Socio-political and human rights reforms, favoured by President Khatami and parliament, were often blocked by the Guardian Council (GC), the highest legislative body whose function is to ensure that laws uphold Islamic tenets and the Iranian Constitution. The GC follows a stricter interpretation of political and social conduct and moral codes. Its continued rejection of legislative reforms contributed to a growing sense of despondency and alienation from political affairs among large swathes of society, especially students, and was reflected by a low turnout for municipal elections in March.

In June, the International Labour Organization called on Iran to report on the application of gozinesh (selection) – discriminatory and ideologically-based regulations that stipulate who is eligible to work in the state sector or who can attend university. During the year, discriminatory and arbitrary procedures based on gozinesh were employed in the selection of candidates for parliamentary elections scheduled for February 2004.

Following heightened domestic and international security concerns over Iran's nuclear power program, the country's accession in December to the International Atomic Energy Agency's Additional Protocol contributed to an easing of diplomatic tensions with the European Union (EU) and the USA.

A growing sense in Iran of the importance of international human rights standards was indicated by local initiatives to expose abuses. In June, the leading student body Daftar-e Tahkim-e Vahdat (Office for Strengthening Unity – OSU) issued an open letter to the UN Secretary-General describing human rights violations in Iran in terms of the rights set out in the Universal Declaration of Human Rights. Relatives of political prisoners and prisoners of conscience publicized the plight of their loved ones. non-governmental organizations such as the Iranian Jurists Association for the Defence of Human Rights, and the Association for the Defence of Prisoners' Rights pressed for higher standards in the administration of justice and in prison conditions.

In August, the Secretary General of the parastatal Islamic Human Rights Commission stated that it had received over 12,000 letters from people interested in the human rights situation in Iran.

The judiciary and its security force continued to carry out arbitrary arrests and often held people in secret detention. Detainees were denied access for varying periods to relatives, legal representation and, in a number of cases, medical care.

Legal reforms

Legal reforms addressing human rights concerns that were rejected by the GC included two bills introduced by the Presidency and passed by parliament in 2002. The first was a bill to allow the President to overturn court decisions deemed unconstitutional. The second, which would have removed the GC's powers to select general election candidates, was rejected twice.

In August, citing financial and constitutional reasons, the GC rejected a parliamentary bill providing for Iran's accession to the UN Convention against Torture. In December, parliament clarified concerns raised by the GC but the Convention had not been ratified by the end of the year. Draft legislation aimed at prohibiting torture to obtain confessions or information had been rejected twice in 2002.

A bill put to parliament by the judiciary facilitating the creation of juvenile courts was passed by parliament in December. If upheld by the GC, it would exempt from the death penalty children aged under 18 at the time of the offence.

After many years of debate, the role of prosecutor was reintroduced in early 2003. However, the controversy surrounding the role of Tehran's Chief Prosecutor in connection with the death in custody of Zahra Kazemi in July (see below) indicated that practices in relation to such posts urgently needed to be brought in line with international standards. It remained to be seen whether the introduction of provincial prosecutors would serve the interests of human rights.

In December, legislation providing for equal compensation (diyeh– blood money) to non-Muslim victims of crime was concluded by the Expediency Council (an arbitration body that is empowered to finalize legislation) and widely welcomed by Iran's minorities.

Imprisoned students

Following reports that universities would be privatized and tuition costs increased, a protest by a group of students in early June inspired mass demonstrations that continued throughout the month. In the resulting unrest, hundreds of people were arrested, including three members of the OSU who were arbitrarily arrested by plainclothes officials following a press conference. Most detainees were released without charge. However, 132 reportedly remained in detention without charge or trial at the end of the year. An AI request in August for information about their situation received no response.

Students convicted and imprisoned after student demonstrations in July 1999 were reported to have been ill-treated in custody. In several cases, they faced new charges, including some relating to defamation and insult, reportedly based on statements made in prison or given to the media while on temporary leave from prison.
Manuchehr Mohammadi, who had been sentenced to 13 years' imprisonment (reduced to seven years on appeal) following a manifestly unfair trial in October 1999, was reportedly transferred from Evin Prison in June to another prison, raising fears for his safety. He had reportedly been severely beaten by officials in Evin Prison after he gave an interview to a radio station based outside Iran. In July, his sister and father, who had travelled to Tehran from their home in the north of the country, were arbitrarily arrested by plainclothes officials.
Ahmad Batebi, who had been sentenced to death in connection with his participation in student demonstrations in July 1999, was granted temporary leave on medical grounds in October 2003. He went missing on 8 November and his family was subsequently informed that he had been rearrested on 17 November. It was widely believed that he was arbitrarily rearrested for having met the visiting UN Special Rapporteur on the promotion and protection of the right to freedom of opinion and expression. The government stated he had been arrested for violating the terms of his temporary leave.
Administration of justice

Flagrant violations of Iranian and international law continued in the administration of justice. At least one detainee died in custody, reportedly after being beaten. Scores of individuals were held in arbitrary and incommunicado detention, often for prolonged periods.
Zahra Kazemi, of dual Iranian/Canadian nationality, was arrested on 23 June outside Evin prison in Tehran and accused of taking photographs in a prohibited area. She died in a military hospital, still in custody, on 12 July. During her detention, she had been interrogated for three days by judicial officials and later by Ministry of Intelligence officials. It was widely believed that she had been tortured. An inquiry ordered by President Khatami found that she died of a brain haemorrhage, apparently caused by beating. On 23 September, a Ministry of Intelligence official was charged with "semi-intentional" murder. In October, parliament's Article 90 Commission – constitutionally charged with investigating citizens' complaints – detailed allegations of irregularities and human rights abuses carried out by Tehran's Chief Prosecutor in the case. The Article 90 Commission argued that his actions perverted the course of justice and referred its report to the disciplinary court for judges.
Three members of a religious group, Melli Mazhabi (National Religious Alliance), were denied access to their lawyer and family members from the time of their arrest in June to the end of the year. They were reportedly detained incommunicado for supporting student demonstrators. Their lawyer was not informed of any charges against them or allowed to see their file.
Families who raised concerns about the treatment of their imprisoned relatives were threatened, usually with prosecution, and harassed. Some were also evicted from their homes, at times after their homes had been searched and left uninhabitable.

In December, President Khatami announced that he had agreed with the Head of the Judiciary, Ayatollah Shahroudi, to conduct a probe into prison conditions.

Women's rights

In December, lawyer Shirin Ebadi received the Nobel Peace Prize for her promotion of human rights, especially the rights of women and children. She is a member of the Iranian Jurists Association for the Defence of Human Rights, whose founding members included five lawyers who had previously been imprisoned and banned from practising law for periods by the Revolutionary Court.

In August, the GC rejected legislation passed by parliament providing for Iran's accession to the UN Women's Convention. In December, citing irreconcilable differences between parliament and the GC, the bill was sent to the Expediency Council.

Death penalty and other cruel, inhuman and degrading punishments

At least 108 people were executed, often in public. The death penalty was carried out on long-term political prisoners, apparently to intimidate political or ethnic groups such as Kurds and Arabs.

At least 197 people were flogged or sentenced to be flogged, often in large groups. At least 11 people were sentenced to have fingers and limbs amputated as judicial punishments. The total figures may have been considerably higher.

In March, EU officials were reportedly informed that the Head of the Judiciary had called on judges not to pass sentences of stoning and to find alternative punishments. Nevertheless, in November, four men in Mashhad, northeastern Iran, were sentenced to death by stoning in connection with allegations of rape and adultery.
Stays of execution were announced in the cases of two women, Afsaneh Nourouzi and Kobra Rahmanpour, who had been sentenced to death for murder. Both said they had been acting in self-defence. The stays of execution were announced following widespread public opposition to the sentences.
In February, long-term political prisoner Sasan Al-e Ken'an, a supporter of the banned Komala party, was executed. At the time of his execution his mother was in Tehran seeking a meeting with members of the UN Working Group on Arbitrary Detention (WGAD) who were visiting Iran. On her return home to the town of Sanandaj, she went to visit her son in prison. She was informed that he had been hanged and told not to make a "fuss" but to bury him quickly.
International and regional organizations

The visits by UN human rights experts contributed to increasing awareness of human rights issues in Iran. However, judicial and other authorities made no public response to their recommendations. In November, the Third Committee of the UN General Assembly adopted a resolution welcoming developments in the human rights situation in Iran, but noted ongoing, grave abuses. The resolution urged the government to, among other things, abide by its international obligations, speed judicial reform and guarantee the dignity of the individual.

The WGAD visited Iran in February. The scope of the visit was limited by restrictions apparently imposed by the authorities. The WGAD recommended, among other things, comprehensive reforms of the criminal justice system, in particular the abolition of Revolutionary Courts and the Special Court for the Clergy, and strengthening the position of lawyers.

In November, following a four-month postponement, the UN Special Rapporteur on the promotion and protection of the right to freedom of opinion and expression visited Iran. He met a limited number of political prisoners and did not appear to have the full cooperation of judicial officials.

After an encouraging start in November 2002, further sessions of the EU-Iran Human Rights Dialogue took place in February and October in Belgium, not Iran as originally planned. The venue was changed after the Iranian authorities objected to the participation of AI and Human Rights Watch. Although the dialogue did not lead to substantive change in judicial practices in Iran, the increased contact between individuals and groups in the countries concerned resulted in greater understanding of the human rights situation in Iran.

AI country visits

Despite increasing communications with the authorities at various levels, AI requests to visit Iran were not granted.
© Amnesty International