Iran Focus

<![if !vml]>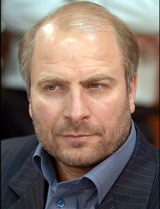 <![endif]>Tehran, Iran, Sep. 04 – Mohammad-Baqer Qalibaf, Iran's former police chief and defeated presidential contender, was on Sunday appointed as the new Mayor of Tehran.

Revolutionary Guards Brigadier General Qalibaf commanded the Air Force of the elite Islamic Revolutionary Guards Corps (IRGC) until his appointment as commander of the para-military police, the State Security Forces (SSF), in 2000.

The decision by the Tehran city council to appoint Qalibaf as Tehran's mayor follows weeks of bitter jockeying and behind-the-scene power struggle among different factions of the ultra-conservative camp.

Independent analysts in the Iranian capital believe the appointment of the 43-year-old former Revolutionary Guards brigadier general was ordered by Iran's Supreme Leader, Ayatollah Ali Khamenei.

Qalibaf has always been a loyal protégé of Khamenei and his new high-profile post may have been a reward from the Supreme Leader to the man who acted as a political fall guy for Mahmoud Ahmadinejad during the June presidential elections.

Many analysts, with hindsight, believe the candidacy of Qalibaf and three other fellow IRGC commanders was part of a complex political manoeuvring by Khamenei to deflect attacks by the Rafsanjani camp on his favourite candidate, Mahmoud Ahmadinejad, while the massive organisations under his control, such as the Revolutionary Guards and the paramilitary Bassij, worked behind the scenes to have Ahmadinejad elected.

Qalibaf ran a modern presidential campaign, swapping military fatigues for Italian suits. But in the end, his new looks could not conceal the true character of the radical Islamist who has spent almost his entire career in the Revolutionary Guards. In July 1999, he and 23 other Revolutionary Guards commanders wrote a letter to former President Mohammad Khatami, urging him to "use every available means" to put down a nationwide protest movement led by pro-democracy students or "they would take matters into their own hands".

In another open letter in 1997, Qalibaf and 32 other top Revolutionary Guards commanders praised Mohsen Rezai for his "services to Islam and Imam Khomeini" after he quit the ayatollahs' ideological army to take up a top executive post under former President and strongman Ayatollah Ali Akbar Hashemi Rafsanjani.

On his orders the paramilitary police force routinely conducted raids on homes for the purposes of confiscating satellite dishes, a rather common-yet-prohibited household item. Many in the population reported that, under Qalibaf, SSF units beat up and arrested anyone thought to be actively campaigning for lasting change in society. A number of student activists had also "disappeared" during this time, though there have been reports and it is widely believed that they were arrested and locked away or worse.