Iran Focus

<![if !vml]>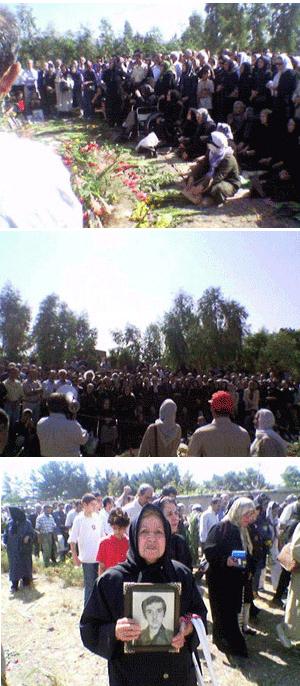 <![endif]>Tehran, Iran, Sep. 03 – Some 2,000 people – families and friends of victims of one of the worst prison massacres in Iran's contemporary history - gathered on Friday at a cemetery south-east of the capital to commemorate the anniversary of the brutal death of their loved ones in the summer of 1988, an Iran Focus reporter witnessed.

Security was tight at Khavaran Cemetery in Tehran where the crowd had gathered. Several undercover officers of Iran's secret police, the Ministry of Intelligence and Security, were seen filming the gathering with video cameras.

Participants carried flowers and many had with them photographs of their loved ones, who had all been executed for their political opposition to the clergy-dominated regime.

Police detained a number of participants, including three young women, Shahla Gol-Abadi, Arezou Shahryar, and Roxana Amirkhani, as they headed out of the cemetery. They were taken to unknown locations.

Thousands of political prisoners were sent to the gallows in the summer of 1988 on the orders of Ayatollah Ruhollah Khomeini. Most were members or supporters of the opposition Mojahedin-e Khalq (MeK). The one-time successor to Khomeini, Ayatollah Hossein Ali Montazeri, later revealed in his memoirs the full text of Khomeini's fatwa, or religious decree.

In a shocking account of the killings, the London-based Daily Telegraph's diplomatic editor Christina Lamb wrote in February 2001, "Children as young as 13 were hanged from cranes, six at a time, in a barbaric two-month purge of Iran's prisons on the direct orders of Ayatollah Khomeini, according to a new book by his former deputy.

"More than 30,000 political prisoners were executed in the 1988 massacre - a far larger number than previously suspected. Secret documents smuggled out of Iran reveal that, because of the large numbers of necks to be broken, prisoners were loaded onto forklift trucks in groups of six and hanged from cranes in half-hourly intervals".

The Islamic Republic's authorities impose a strict news blackout on all items related to the 1988 massacre. Journalists who have mentioned the massacre in their articles have been arrested and their newspapers banned.