Save me from DEATH!
Translated message from Kobra Rahmanpour to all people
<![if !vml]>

<![endif]>
Rescue me! I fear death! I fear the gallows tree!
I am a human of your race, of human race! I don't want to die! Now, however, I am just like a lifeless body who has forgotten happiness and smiling because of the fear of the gallows!
   Many have sent messages to me: "You are famous now!", they say, "Are you still imprisoned?".
   Oh, tell them I am one step away from death! Imprisonment would be paradise compared to my present condition!
   Like every human, like all of you, I am scared of death. Please help me! Don't let this be my last letter!
My fellowmen! Oh, humans!
  My dear parents and my disabled brother, who are in extreme anxiety for me, have been in the hope of receiving your warm support. I often keep wishing that my life had gone in another direction. I wish I could finish my pre-college education. I wish I didn't have to work and to serve my husband's family as their maid. I wish I had not been pushed to the point of madness. But I have suffered so much and have been tortured so much. I am but a victim! And now they are going to take this victim to the gallows, to execute her! I don't deserve such fate!
Oh, I have suffered enough. Don't let this nightmare come true; a nightmare which I have seen many nights, which has awaken me while screaming… Help me to be saved from death! Do everything you can! Time is so short, days are passing by, and every tick of the clock is the sound of my approaching to the gallows tree. Please help me! I fear death, I fear gallows tree! I hate the gallows; I hate the "crane"!
<![if !vml]>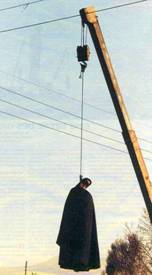 <![endif]>
(Execution of a woman with crane in Iran)
I want to stay alive. Every other way is closed to me. Nobody hears my call for help. My only hope is my people, my fellow humans…
   O, I want to take my mother and father in my arms…
My regards to my family, and to all those who struggle for saving me!
Kobra Rahmanpoor
Evin Prison (September 2006)
Save the Life of Mrs. Kobra Rahmanpour before it is too late!
Please send your email or fax to Ayatolah Sharudi, chief of the Iranian Judiciary:
Email:
Telefax:
00 98 21 8879 6671
00 98 21 6640 4018
00 98 21 6640 4019
Thank you,
Your IRAN SOS-Team!
<![if !vml]>

<![endif]>
Verein Internationales Rettungskomitee für IranerInnen
Iran SOS
WUK / Währinger Straße 59/2/1114
Tel.: 01/4034755
Reg. Nr.: III2254 B.P.D. Wien
ZVR-Zahl: 344380176